The 4th International Conference of Iraqi Hypertension Society IqHS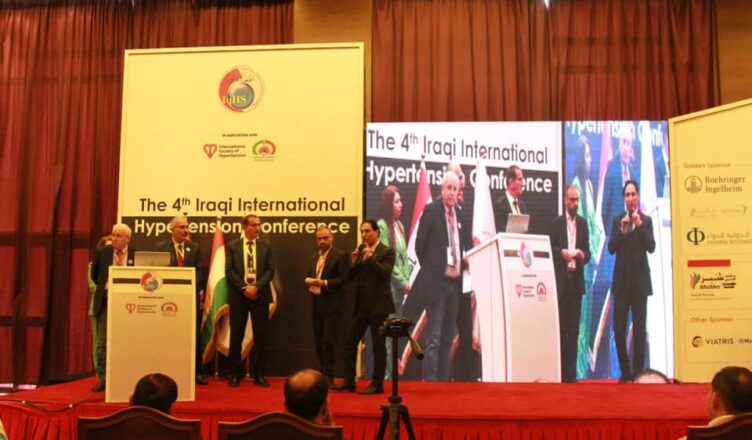 Under the theme "Hypertension control in Iraq, role of clinicians, communities and health policy", the Iraqi Hypertension Society IqHS and with the collaboration of Kurdistan Cardiovascular Society held the 4th International Conference in Erbil, Kurdistan Region of Iraq from the period 4-5 of November this year. This Conference was scheduled to be held in
Under the theme "Hypertension control in Iraq, role of clinicians, communities and health policy", the Iraqi Hypertension Society IqHS and with the collaboration of Kurdistan Cardiovascular Society held the 4th International Conference in Erbil, Kurdistan Region of Iraq from the period 4-5 of November this year. This Conference was scheduled to be held in the antecedent year but was postponed because of the Corona pandemic.
This year conference had covered a wide range of topics related not only to hypertension and its cardiovascular complications but also it tackled multiple aspect of hypertension from different perspectives, indeed there were individual sessions for each of these topics like Hypertension in cardiovascular diseases, in kidney diseases and dialysis patients, in endocrine and metabolic diseases including obesity, in pregnancy , in the surgical patients, in various systemic disorders and also a special emphasis on hypertension in children and adolescents in Iraq, beside there were workshops on using advance Echocardiography tools in hypertensive heart disease and also on emergency treatment of hypertension acute complications presented by the Iraqi Society of Emergency Medicine ISEM. The ISEM also presented an interesting study by Dr Fadhil Agla MD, an emergency  medicine specialist,  about the management of hypertensive emergencies in Mass Gathering reflecting their experience in the Day Arbaeen visit for the holy shrine of Imam Hussein as they were involved in providing health services for more than 11 million pilgrims over less than two weeks period and this was an outstanding number not usually seen worldwide.
Some notes to be drawn from this conference.
Hypertension is still the leading cause of morbidity and mortality worldwide and in Iraq as well with an alarmingly high incidence of undiagnosed cases not only in adults but also in children and adolescents probably due to increasing obesity and inactivity among those group of population which became a global problem.
There was a high incidence of hypertension among people of the Kurdistan region showing alarming figures of 54% of adult population of whom 74% are on no treatment but fortunately 88% are compliant with their treatment.
Iraq started to implement its protocols making use of international and ISH guidelines for early detection and management of hypertension, especially in the primary health care provider settings.
The conference also strongly emphasizes the role of community, civil society organizations, and media in the dissemination of sound information and facts regarding the real danger of hypertension on individuals and the general health of society on a larger scale and to dissipate all misinformation and beliefs that affect the health care provider efforts to control the disease.
This conference open the door for the opportunity of collaboration of different medical societies and associations for better understanding and management of hypertensive patients in different medical branches and their collaboration with IqHS for patient registry and data analysis including future shared research studies.
6, Dissemination of up-to-date information regarding the management of hypertension from early detection, lifestyle modification, and treatment in whatever means available including telemedicine is one of the important goals of IqHS.